JENS MALMGREN
I create, that is my hobby.
We finished the cupboard
Hannah is doing fine. We finished the cupboard this week.
Monday 21 August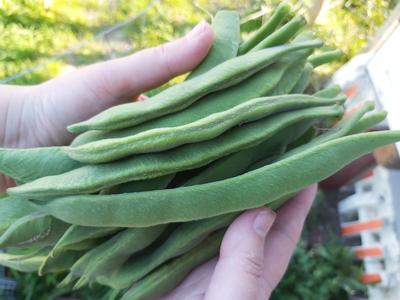 Today, we went to the office. I took with me another giant courgette. It was split between two colleagues. Not many colleagues were in the office, but the nearest colleagues were present, so it was fruitful.
When we came home in the afternoon, DW harvested runner beans that I sowed on 24 May.
Tuesday 22 August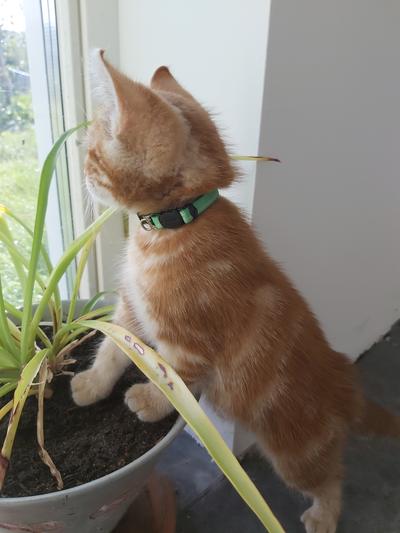 Today, we worked from home. It was good weather outside, not that we made any use of it, personally. Our solar panels made use of the sun, and that was great. We went outside after lunch with Merida in the harness. She did not appreciate that at all. She kept the collar on; it still annoyed her, but she came to turn with it, as it seemed.
Hannah is letting loose more pieces of dead skin. I suggested we give Hannah sunscreen in the morning, but DW did not register this. In the afternoon, I reiterated that Hannah should have sunscreen, and DW was surprised by my suggestion. I was surprised she had not heard it already in the morning. We decided that tomorrow morning, Hannah would have sunscreen.
We went biking this afternoon. We went to a nearby canal in a park. It was such nice weather. I think it is the final moments of this summer that we are seeing this week.
When we came home, the package had arrived from ArduSimple. To my dismay, the pin missed the little ball at the tip. It had the hole for the ball, but the ball and the spring were missing. The cable was okay, I suppose. I have not tried it yet.
Wednesday 23 August
This morning, Hannah got sunscreen, which was good. We are cutting off more of the loose flaps, but the big wound on her back still holds things together. I feel this won't be good; I would rather that she got the wound freed from the loose, dead skin.
This week, we both worked this Wednesday morning. DW is busy with a massive project at work with a Friday deadline. I hope things will be fine. The massive project I worked on seems to be finished for now, so I am fine. It will come back, indeed, but right now, all is fine.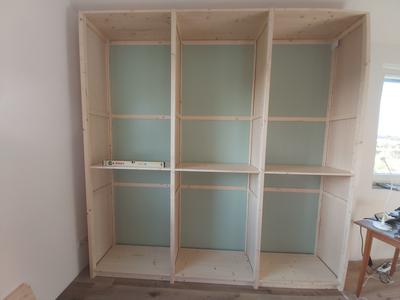 After lunch, we worked on the cupboard. The more I put together, the less impressed I am. One beam was shorter than the others. Luckily, it was long enough to be used. We went to the hardware store and bought more screws for the back of the cupboard. The replacement screws were shorter than the original screws but suitable for the back panels.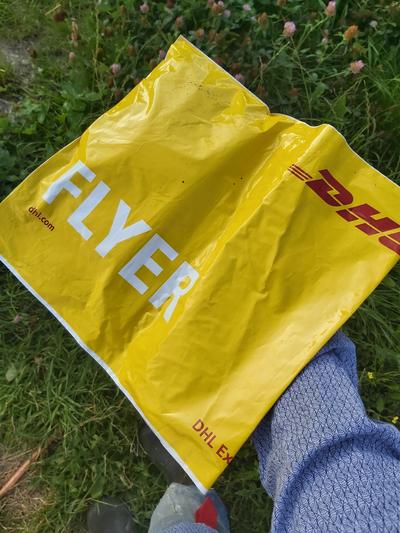 The pin and the cable of the survey equipment arrived. When surveying in Sweden, I got stuck in the scrubs several times. At one moment, I lost the pin. At another moment, the cable to the antenna got stuck. The antenna cable could be salvaged, but I had to have a new pin. I was disappointed when I opened the package; the pin did not have the little ball at the end. I have to write an email to the company.
Thursday 24 August
This morning, we provided Hannah with a sufficient amount of sunscreen. Then we went to our offices. After bringing DW to the train station, I took the car to the car service company for service. On the way home, I picked up the car, and we drove home. It was moist, sticky, warm weather.
When we gave Hannah her ointment, we discovered a new patch of fly eggs in the wound on her back. It had been a warm and sticky wind still day, and the ideal situation for a fly strike.
I built a narrow enclosure of rigid fencing and let Hannah in that enclosure. That makes it possible to care for her without having her run away. Then, we cleaned the wound. We will not lose Hannah this easily. We are on this now. All eggs were removed entirely, but we were shocked. To get a better overview of the situation, we cut away more dead skin to get better access and make it possible to keep her clean.
Friday 25 August
This morning, before I went to work, we called the veterinarian. We were wondering if we were doing things the right way. The veterinarian recalled the situation when DD, a neighbor, worked on Hannah in the dark. DD had been excellent. It surprised me that DD got so much praise but appreciated. We were advised to clean the wound thoroughly from the sides and let the crust on the top stay as long as possible. Hannah may scratch off the crust, but that is how it is. When we clean the wound from the sides, there might be more red patches and even a little blood, but that is not bad as long as the wound is kept as clean as possible. She advised to use plenty of ointment because the flies don't lay eggs in the ointment.
With this advice, we went to Hannah and gave her the morning ointment treatment. She also got plenty of sunscreen.
After this, I went to the office on Fridays, and DW worked from home as usual. DW, her deadline came, and all was fine. Unfortunately, the project also has other milestones, so there will be more deadlines. I had no deadlines this Friday. DW received furniture from her work furniture for the home office. A person came and installed it in her office. That was so nice of her employer.
We had our evening ointment session with Hannah in the afternoon when I came home from work. DW was a little more thorough than she dared to be up until now. No blood came from Hannah, but more red skin emerged when DW cleaned around the wound this time.
We decided to walk more often because we need more exercise. This evening, we walked to the grocery store to buy things for our supper. We got more of the gloves DW is using when she cleans the wound of Hannah.
We had our supper late, but I was eager to practice with the DJ gear, so I also did that. While I played the DJ gear, I got a message that the next folk music course in Austerlitz will be held from 9 to 11 February next year. I decided to go there.
Saturday 26 August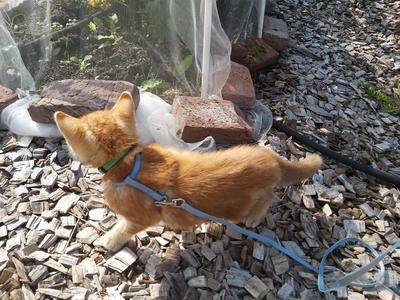 This morning, we woke up later than usual. I think we had an active week and needed to rest. While DW collected raspberries for our breakfast, I took out Merida for a walk in the garden. She needs to get used to our surroundings as well. This went well; she was not scared compared to the other times we let her out.
The drama came when I let her back in. I had my wellingtons on and thought I could just let loose her harness, remove my shoes, close the garden door, and then take the harness from Merida. Actually, many different things had to happen in a short moment. It did not go as planned.
Something scared Merida. The door had to be closed; I still had my Wellingtons on. She started to run away from that thing that scared her. Something new scared her: the collar from her harness behind her bungling after her. She got really fast, ran as a maniac over the couch with the collar behind her, swept over her bucket with food, and continued down the south hallway, but the collar got stuck at the corner, so she got an instant break. Also, that is a shocking experience, I can imagine. Then she turned around and got loose again. She continued up the stairs, and I still had my dirty wellingtons on. At the top of the stairs, I got a grip on her and could stop this maniac run.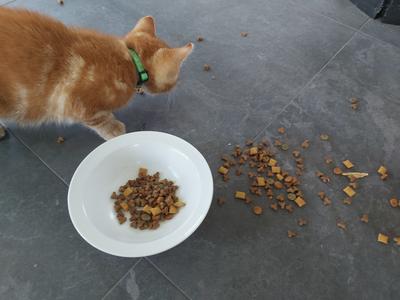 Now I could calm Merida and take off the collar. Then we could start to clean up the mess. When I say we, I mean I cleaned most of it. When I was done, and order restored, she wiped the remaining crumbles.
We learned that the taking of the wellingtons is not that important. Removing the harness when coming in from a walk in the garden is more important.
Today, I wanted to continue on the decluttering of the area around the entrance to the workshop and the sea container. We had sticks and planks leaning towards the container, and I packed them into the small trailer. There was room for a couple of pallets as well. We build a stack of pallets behind the container and don't need most of them. There are also broken roof tiles; all that stuff needs to go. I want this area to be in such a condition that the sheep can go here and graze. Then, we have a gate from the container to the permanent fence in front of the house. On the other side of the container, we will have a permanent fence enclosing that corner of the property. This means that we will park the car further away from the house. We will see how it goes. I have no idea how the charging of the future e-Car will go. Perhaps let the car be at the same spot but have a little longer cable.
We decided to take away the old wood stove. I first cut off the top of the wood stove to see what that would look like. Not that bad, actually. We can keep the bottom half for a while. Perhaps even light a fire in it for fun.
We brought the garbage to the upcycling center, and you might have guessed it. When done with the disposal, we went to the second-hand shop. I was eager to find a "new" transformer for the sound system I got, but that did not happen.
This evening, I wondered what I wrote about on 24 February 2022, the beginning of Russia's full-scale invasion of Ukraine. It was a day when we were busy with our own things. I added a note about the invasion on that day.
I continued to practice with the DJ gear. I loaded a bunch of new music into the machine and wanted to give all songs a loop at the end. That will take a couple of evenings.
Sunday 27 August
Merida decided to sleep on my chest last night. When I turned around, Merida slept in my armpit. She wants to be really close. Until now, Merida slept at DW's feet, which was convenient for all parts.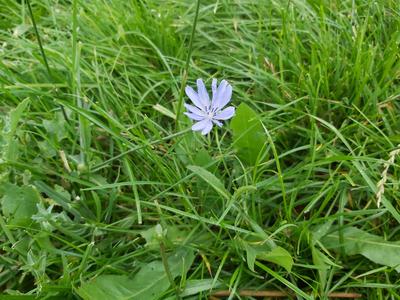 When we finished the ointment of Hannah, I found a lovely little Chicory flower. This plant is suitable for sheep, although I could not verify this.
DW did not poke around in the wound this morning. Hannah got her ointment, and that was it.
Instead of going straight to the day's main tasks, we decided to have a walk. It was great! We managed to do the walk without receiving any rain. We passed a house where the owner had a blog. DW used to follow that blog. I asked her how it was going with the blog, and she told me that they stopped blogging altogether. It had been taken offline even. I remember that we learned a lot from that blog, it was not a happy feeling that they stopped blogging. Anyway, I will continue to blog, that is for sure.
After the walk, it rained a little. Hurrah, such a good timing.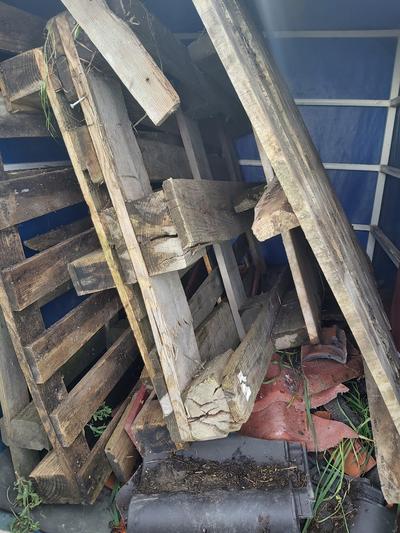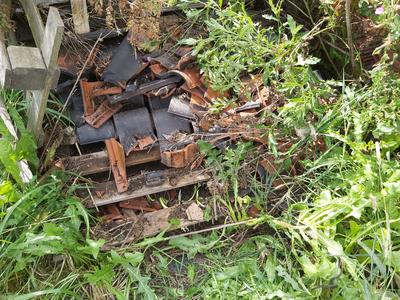 Then it was clean-up time! I decided to eliminate the broken roof tiles today. I did that and filled up the small trailer. I also could fit a couple of pallets as well. I suppose I will empty the trailer next week already.
DW was busy with the new cupboard in her hobby room. We screwed the cupboard to the wall so it could not fall over. Then, we mounted the bars at the top of the cupboard intended for hooking up a ladder. I suppose DW will get a ladder for the cupboard one day. The bars made me grumpy because the Lundia brackets did not fit the Lundia holes. With a file, I could slightly augment the hole so that the screws would fit.
When this was done, the cupboard was ready to be deployed. DW put more planks into the cupboard and populated the planks with plastic boxes she got from the cupboard in my room. That created more room in my office. I was delighted!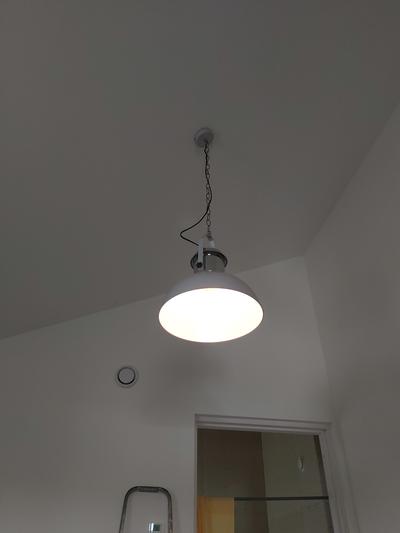 There was more space for things I wanted to do in my office. I decided to mount lamps we bought over a year ago to celebrate the extra space created in my office. This was an outstanding achievement, a great afternoon. There is more work to do, and more boxes must go from my office into DW's hobby room.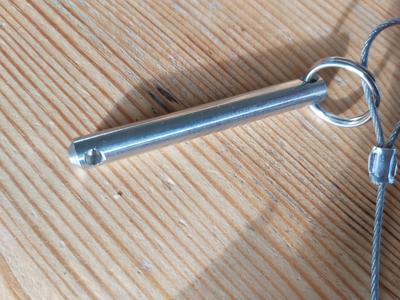 I finally got around to sending a complaint to Ardusimple about this missing ball at the end of the pin. We will see how they answer that. Up until now, it has been pleasing people at Ardusimple. I do hope I can keep that feeling.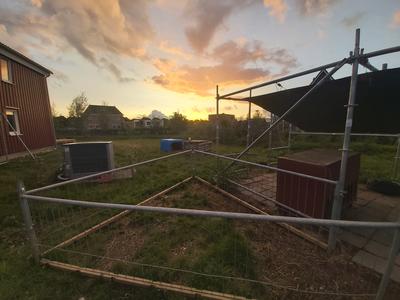 When we finished the evening ointment of Hannah, it was a lovely sunset. It had been a nice day, although it rained occasionally.
Here ends this week's blog. The main achievement this week must be that we finished the cupboard. We also got going on the decluttering of our yard. We had another fly strike we could clean away; that was a wonderful yet shocking experience.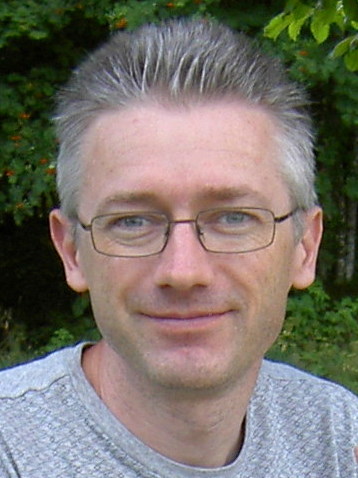 I was born 1967 in Stockholm, Sweden. I grew up in the small village Vågdalen in north Sweden. 1989 I moved to Umeå to study Computer Science at University of Umeå. 1995 I moved to the Netherlands where I live in Almere not far from Amsterdam.
Here on this site I let you see my creations.
I create, that is my hobby.
Copyright © 2015 - 2023, Jens Malmgren. Google Analytics is used on this site.