JENS MALMGREN
I create, that is my hobby.
Started preparing for the tiny house
This week I started preparing for the tiny house by digging a trench for cables; DW augmented the vegetable garden.
Monday 8 May
This was "the day after" we drove to the Netherlands. The body has arrived, but the brain still needs to arrive. We both worked from the office.
This evening we went to a meeting with the road association. It was decided that the top layer of the road would be put on it. We will get a road with stones. Preparing for the project will take some time, so it will probably take some time before we can drive on the finished road.
Tuesday 9 May
Today I was supposed to work from home, but I went to the office for a meeting. That was convenient. DW also went to the office today. We could drive home together.
Wednesday 10 May
In the morning, I noticed two European goldfinch birds (Carduelis carduelis) collecting wool for their nest.
| | |
| --- | --- |
| | Here are the two European goldfinch birds. |
| | The sheep had been lying next to the pallet, and plucks of wool got stuck on the pallet. Now the goldfinch would like to harvest this wool. It is hard work. |
| | Reverse with the wool. |
| | Stretching the head. Will it come off? |
| | It is stretchy wool. But this goldfinch is not giving up! |
| | Is this it? |
| | "Should I get more, or is this enough?" |
| | It was enough. A short moment later, the finch flew back to the nest. |
DW had a regular day off, and I had a half day off after lunch. I built a gate today. It was not as easy as I had hoped, but it looked nice.
The poles were not perfectly level, but I made it work anyway. We are going to make about 10 ports in total. I want to make them look okay and easy to make and deploy.
I also changed the grazing area for the sheep. They now got the area between us and our southwest, west, and north neighbors. I made it so they could use the rain roof, which they appreciated. It is suitable both for rain and sunshine. The grass is growing so quickly right now that we might let them graze at this new place for just a week or so, and then we move them to the next patch already.
Today DW started the painting preparations of the hall on the ground floor! I started the plastering project on 14 December 2022, which was finished on 12 February.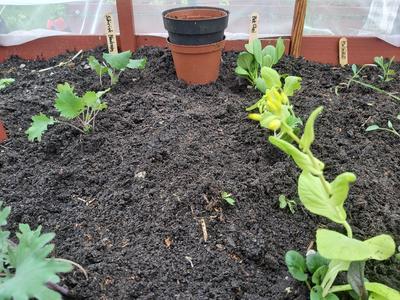 We got plants from DM, and tonight we placed them in the second salad bed. We decided to put a net on this bed to have cabbage and mustard type of plants here (Brassica).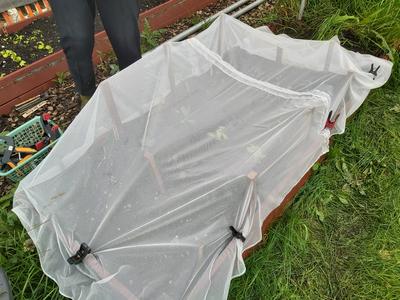 They attract the cabbage white (Pieris rapae) butterflies. We got plenty of them in this neighborhood, so a net is required.
Here is the second salad bed so far:
| | | |
| --- | --- | --- |
| Row | Sort | Notes the Swedish name etc. |
| 21 | Red cabbage | We sowed this minutes before we drove to Sweden on 22 April. |
| 22 | Red Russian kale (Brassica napus L, subspecies napus variant pabularia) | Sibirisk bladraps |
| 23.5 | Bok choi (Brassica rapa subspecies chinensis) | Pak choi |
| 24-25 | Palm cabbage (Brassica oleracea convar. acephalavar. laciniata) | Palmkol |
| 26-26.5 | Broccoli (Brassica oleracea var. italica) | Broccoli |
There is also growing mangold that I sowed in the autumn.
Thursday 11 May
Worked from the office today. When I came home, I was eager to go out with the brush cutter to cut thistles according to my new thistle management strategy. We have been away in Sweden for two weeks, and the vegetation has exploded during that time. The weak part of my thistle strategy is that it is "over" or at least highly inconvenient if I miss the maintenance. So I don't want to get to that point early in the season.
Friday 12 May
Worked from the office. When I came home, I decided to start on the tiny house project. We bought a tiny house on wheels, but it needs to be delivered, but not only that, we need to prepare a connection to electricity, water, Internet, and sewer.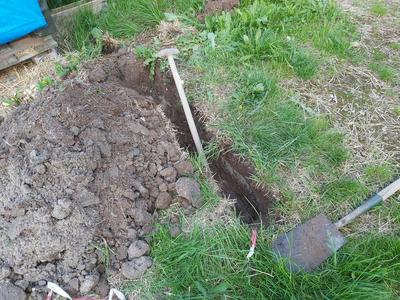 Beforehand I was worried it would be challenging to dig the trench where the driveway is. That turned out to be easier than anticipated. It is still hard work, but it is not impossible. The gravel is compact and rigid, but it is hammering on it with a spade to loosen the structure.
Saturday 13 May
Today we went to a chicken course. We got there by bike; it was 15 minutes away from our house by bike, and it looked much like our neighborhood. A road with potholes, houses in various styles, and states of readiness. We came to a house where they were almost finished with the house. The door to the toilet was missing a lock mechanism, but all looked pretty much finished for the rest.
The course covered all sorts of things you need to know to successfully keep chickens. We got plenty of space to have a couple of chickens on our property, so it is an exciting idea.
We learned about the types of sicknesses of chickens, what they should eat, how to discover if they are not feeling well, and the prevention of sicknesses common to chickens in this area. It was a course over a couple of hours and full of information. Before proceeding with this project, there is much to figure out, but it feels like we will do it. Right now, the priority is on the tiny house and finishing our own house.
I feel that plastering is a perfect task for the winter months. Now we are in the growing season, and I will not likely have time to start the next phase of the plastering until next winter. There is too much to do outside.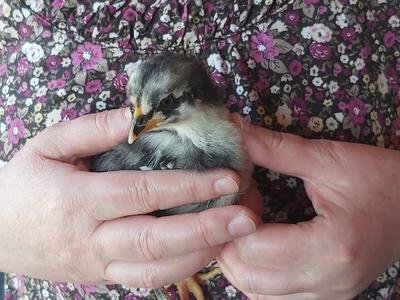 Here is DW holding a chicken. It was shivering slightly. Then I could hold the chicken, I got large warm hands, and the chicken enjoyed that. It stopped shivering and decided to lie down in my hand.
The teacher had a sort of chicken that was laying colored eggs. You had to combine the chickens somehow to create the different colors.
It was great fun going on a course together with DW about chickens. I liked that a lot.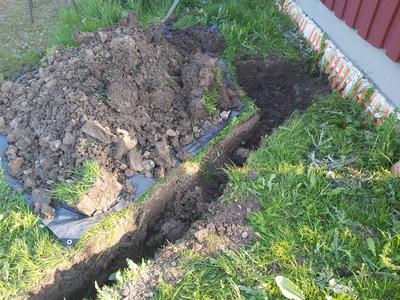 When we came home from the course, I continued to work on the trench for the cables to the tiny house. DW worked on the vegetable garden. She brought the rest hey of the sheep to the garden. This is material they disposed of. Then they have been pooping on this the whole winter, so this material has a lot of nutrients.
Sunday 14 May
This was mothers Day in the Netherlands. As it happened, we had a visit planned for MIL and FIL. But before going there, we had another round of digging the trench and preparing the vegetable garden.
After lunch, we went to MIL and FIL. They were in good shape. Last time MIL had problems with her back. This time this was much better. We even went into her front garden and helped her weed a section.
MIL has a mirror in her garden, and a blue tit had got fond of himself and came to the mirror to check out the image of himself.
After we visited MIL and FIL, we went home again. I started digging again, and DW continued working on the front vegetable garden.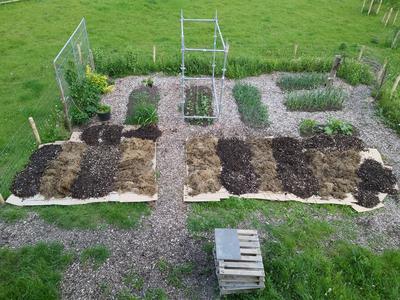 DW made fantastic progress on the garden. First, she put out corrugated cardboard. Then she laid out the beds with the sheep's winter hay from the platform below the rain roof. Between the beds, she placed wood snippets. We also put out a section of scaffold to support beans. Around the vegetable garden runs the new permanent sheep fence.
This was how far we came this Sunday. It was an active week, indeed. The main achievement was that I started preparing for the tiny house. The work in the vegetable garden is DWs main achievement this week.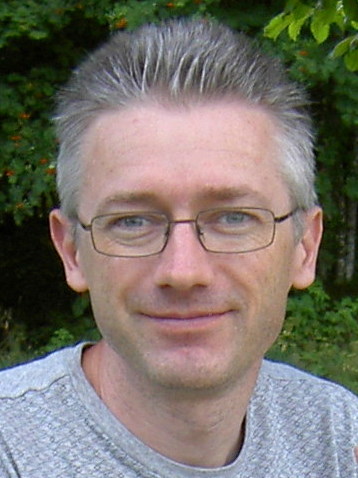 I was born 1967 in Stockholm, Sweden. I grew up in the small village Vågdalen in north Sweden. 1989 I moved to Umeå to study Computer Science at University of Umeå. 1995 I moved to the Netherlands where I live in Almere not far from Amsterdam.
Here on this site I let you see my creations.
I create, that is my hobby.
Copyright © 2015 - 2023, Jens Malmgren. Google Analytics is used on this site.