JENS MALMGREN
I create, that is my hobby.
Finished plastering the bedroom hall
This week was similar to last week. I finished plastering the bedroom hall.
Monday 20 March
Work from the office for both DW and me.
Tuesday 21 March
Today DW went to work with public transport, and I worked from home. I made a fried egg for lunch. In the evening, I made an omelet for dinner. It became an egg day.
Wednesday 22 March
I worked from the office the whole day, and DW had a day off. The planning was for meetings the whole day, but that did not happen. That was also good. This meant I had to have my half day off on Friday anyway.
After work, we went to the grocery store. There we met a teacher our son had when he was six to ten years old. It was great talking to him; he lives in the same area as us, where people build their own houses.
Thursday 23 March
This day I worked from the office. It was like working from home. When almost no one else is in the office except me, what am I doing there? Well, DW went to work, so I drove her. Besides that, some people appreciated my presence.
Friday 24 March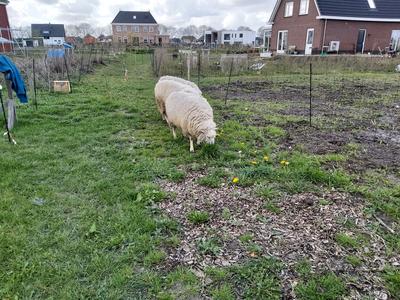 In the morning, I worked from home. I finished a large project (at work) I had been working on for a couple of weeks, which was an excellent way to start the weekend. At lunch, I signed off and moved the sheep to a new area. It was windy but also sunny.
I arranged the net to extend to the area between the two eastern neighbors. I had to get permission from one of them, but he was okay with grazing sheep. The sheep were hesitant about the new area. It can be that they are smelling the odor of dogs.
Then I started plastering the ceiling of the bedroom hall. Plaster ceilings are not fun, but it has to be done. I plastered two buckets of TopFinish. This means I can now fix minor defects, if any, and the hall is ready to be painted!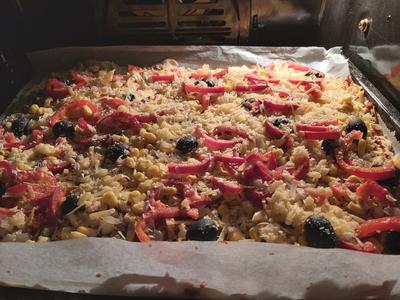 In the evening, I made homemade pizza. It was not the most successful pizza, but it served us well. When I made the pizza, the wind was roaring outside. We have not had that many storms this year. Last year by this time, we had a handful of storms already.
Saturday 25 March
This morning I blogged about this week. There will not be so much text in the blog post this week.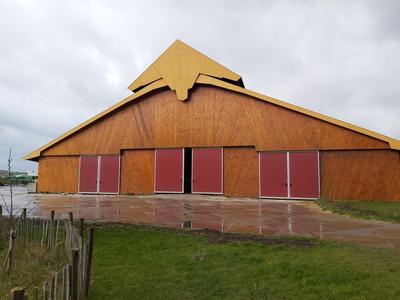 Instead of starting plastering immediately, we biked to an "alternative" shop in the neighborhood. Next to the shop, there is a barn with some top construction, and I noticed that it was crooked. I have questions about that.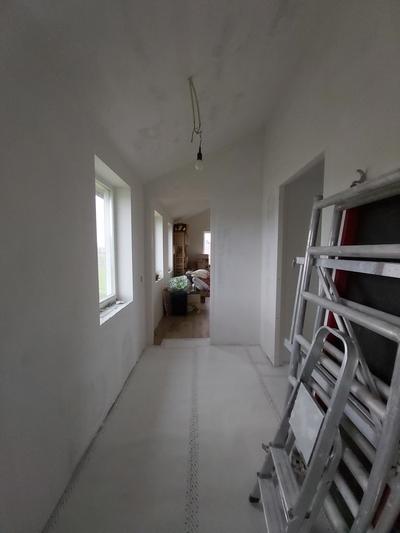 It was windy and a little rainy, but it was great fun to get out and bike.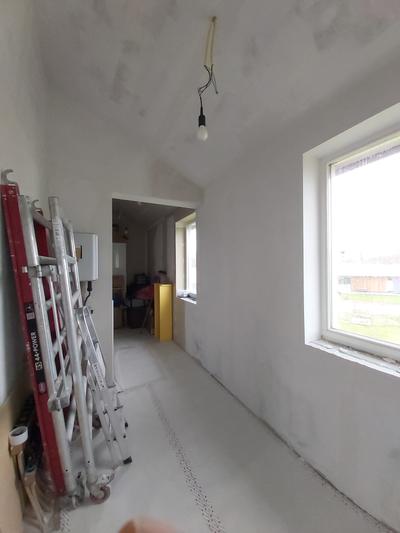 When we got back, it was time for plastering. I finished the plastering of the bedroom hall. This means DW can start to paint this room as well. She has not finished painting the hall on the ground floor, so the paint jobs are mounting.
Now the question is, what should I do next? If I were to start plastering the staircase hall, I would have to do a bit of problem-solving because we have furniture stalled in this place, and to start work, all that stuff needs to be moved. There is a cupboard from DDs room in the old house. She is not living at home anymore, and the question is whether she is interested in keeping that cupboard. I don't know. Also, other things need to find a new place.
When done with the plastering, I wanted to clean more than usual. I even swabbed the floors around the bedroom hall. The plastering leaves a lot of dust and is sticky, so it is not so lovely to have everywhere. While at it, I decided to give the first floor the same treatment. As long as the hall on the first floor still needs to be painted, we keep the protective paper.
I look forward to removing the protective paper, and we can see the floor tiles. DW needs to get into action for that, but I am not putting any pressure on her. She also had an intense week.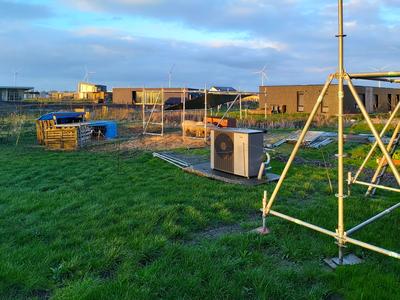 Around midday, the wind was the strongest. In the evening, the sun shined below the clouds briefly. The temperature is often above 10 degrees, meaning the grass is growing. Within two weeks, we must probably move the sheep to the front of the house. We will see.
Sunday 26 March
Today we set out an ambitious plan for what to achieve today:
Do a checkup on the earth auger. I expected the clutch to need a drip of oil.

If the earth drill would work, we could continue the permanent fence for as many poles as possible.

We could check the compost heap if the fence plan is not working. Try to rearrange it to get down to more digested heap levels.

As a different plan, we could make a sift for the compost to create lovely earth-like material.

If all the above plans would not work out, we could work on our tilling machine. It needs service to get started.
There is always more plaster work to do.
We began on point one of the plan. It turned out we got eight poles left. We need to order more poles, that is clear. DW volunteered to order more by phone next week.
I oiled the earth auger clutch. Started it, and it was pretty firm in that the clutch was stuck. I opened the auger clutch and found that the spring was broken. With that, the first point could not be carried out.
At this moment, neighbors started planting a tree, and we walked to them and had a chat, followed by that we were invited for coffee. I do love that we have friends around here. The village still needs to settle, but we are all working on it. It is easy to spend the day drinking coffee and talking. I love that they did not have a door for one of their toilets, not even a curtain like ours. From the outside, their house looks wholly finished.
We did not sit the entire day drinking coffee; we began on point two of our plan: We rearranged the compost heap to get access to the bottom. It turned out to be more difficult than anticipated. It is heavy work. Much of the material still needs to be composted even further. This is because we put sticks and things that are harder to digest. Had we ground the material, it would have been much more composted.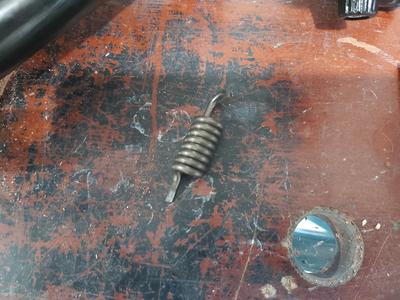 When we abandoned point two, I could not help it; I had to try to order a new earth auger clutch spring. It turned out to be more challenging than expected. It is a Hyundai motor, and I could not find any spare parts shops with Hyundai parts. I found a spring on a Dutch spring webshop. It was not entirely clear if I ordered the correct spring. Later when searching with English search words, I found the correct spring. Oh well, now I got both. We will see how that goes.
I had not inspected the details plate on the machine before. It is produced in China. It is also logical that you get spare parts for it from China. They will be delivered in a month or so. The Dutch part will probably arrive early next week.
In the evening, I talked to DD about the stuff in the staircase hall. The cupboards cannot be discarded right now, so I need to find a way to get them out of the hall while keeping them in the house. I am a virtuoso at packing cars, so I will probably find a solution here.
Here end this week's blog post. My main achievement this week was that I finished plastering the bedroom hall.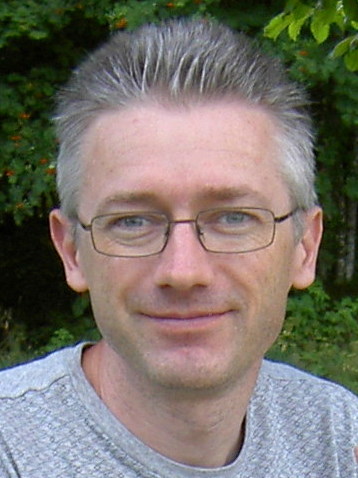 I was born 1967 in Stockholm, Sweden. I grew up in the small village Vågdalen in north Sweden. 1989 I moved to Umeå to study Computer Science at University of Umeå. 1995 I moved to the Netherlands where I live in Almere not far from Amsterdam.
Here on this site I let you see my creations.
I create, that is my hobby.
Copyright © 2015 - 2023, Jens Malmgren. Google Analytics is used on this site.