JENS MALMGREN
I create, that is my hobby.
Intense week
My mind was still half on vacation at the beginning of the week, but that did not stay so because I plunged into intense work at the office. I switched my Wednesday half-day off with Friday. I think the intensity of the work at the office is why I am not that wordy in this blog post this week.
Monday 6 March
Yesterday we came home from Sweden. Driving from the cottage back home to the new house in the Netherlands is intense, so it takes some time to recover.
This was a work-from-the-office day, so we got there on time. Last time we were in a hurry, but this time we stood up one quarter earlier. That worked out well. Many of my colleagues had also been on vacation, so we could share our vacation stories with each other.
In the evening, we went to our friends who were looking after our sheep last week, and we handed over a small gift as a token of our gratitude for their work. It was received well, and they liked that. It was nice to meet them and have small talk.
Tuesday 7 March
Today we had a work-from-home day for both DW and me. It started snowing in the afternoon! I gave the sheep hey and food supplements in the afternoon when the worst snowing occurred.
In the afternoon, DS came home from work. He went to sleep right away. After our work, we sneaked to his room and sang the happy birthday song to him. He had become 30 years old today.
Wednesday 8 March
I usually work half a day on Wednesday but switched my half day to Friday this week. This became a full day in the office because of meetings. Before driving to work, I had to clean the car from ice and snow.
It was an intense working day. The meetings went well.
I must say I missed doing DIY, though. That has to happen on Friday; that is good enough.
Thursday 9 March
Today was a work-from-office day. I had an intense task, but it did not go as well as I had hoped. There were things out of my control that did not work, so I was dissatisfied.
In the evening did not DIY either; I was too tired to do that. I experimented with music. DW worked from home.
Friday 10 March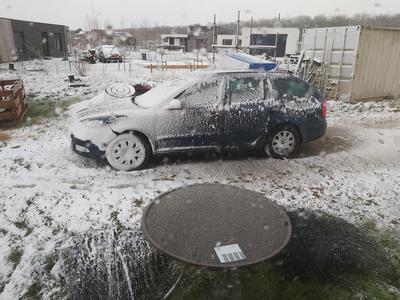 This week I exchanged my regular day off from Wednesday. In the morning, I worked from the office. At lunchtime, I went home and started plastering the bedroom hall. This was feeling really good. I finished the course layer and even started on the TopFinish layer.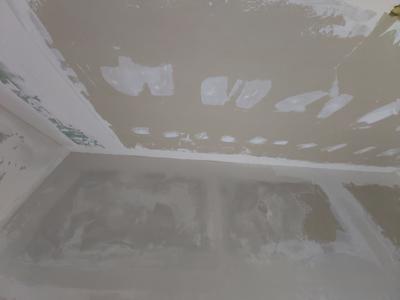 DW had a day off. When I started working upstairs, she started applying primer on the ground floor hall. It felt great that we both worked on the house.
Outside, it started to snow. It snowed for a couple o hours.
Saturday 11 March
It was a beautiful morning. DS had overslept, and I woke him up. He went to work more than an hour late. This is not feeling good; I hope he can keep working.
We continued the DIY. DW applied more primer, and I continued applying TopFinish. I finished the first layer on the north wall of the hall. DD came home. Always lovely to see her.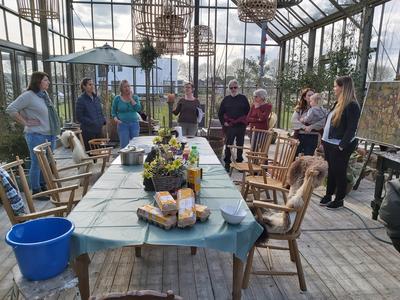 DD, DW and I went to a community event in the afternoon. It is called "NL Doet," meaning NL is doing. Here DW is explaining what the idea was with the activity.
The idea was to create seed bombs: Chunks with soil and seed that you can put out in nature – or your garden, and the seeds will germinate and start growing. Because the seeds are combined with soil, the seed bomb has a greater chance of succeeding in germinating. The seeds in the seed mix contained the following seeds:
| | |
| --- | --- |
| Duizendblad | Yarrow |
| Echte kamille | Chamomile |
| Echte korenbloem | Cornflower |
| Fluitenkruid | Cow parsley |
| Gewoon barbarakruid | Wintercress |
| Wilde cichorei | Wild chicory |
| Groot streepzaad | Rough hawksbeard |
| Wilde peen | Wild carrot |
| Gewone berenklauw | Common hogweed |
| Witte dovenetel | White dead nettle |
| Vertakte leeuwentand | Autumn hawkbit |
| Muskuskaasjeskruid | Musk mallow |
| Groot kaasjeskruid | Malva sylvestris |
| Luzerne | Alfalfa |
| Pastinaak | Parsnip |
| Grote bevernel | Greater burnet-saxifrage |
| Grote klaproos | Large poppy |
| Scherpe boterbloem | Meadow buttercup |
| Kruipende boterbloem | Creeping buttercup |
| Gewone smeerwortel | Common comfrey |
| Gewone paardenbloem | Common dandelion |
| Paarse morgenster | Tragopogon porrifolius |
| Rode klaver | Red clover |
| Witte klaver | White clover |
| Vogelwikke | Bird vetch |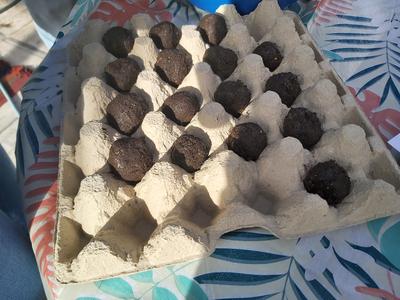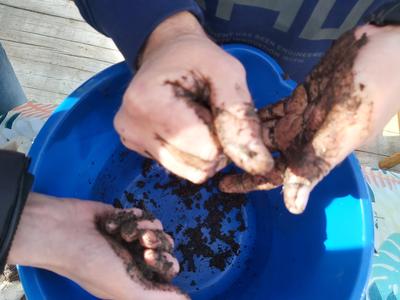 More neighbors arrived gradually. The event took place in the glass house of one of our neighbors. Making balls of clay, soil, and seeds was entertaining. I got to catch up on the latest developments at neighbors.
It was a magnificent glasshouse. Having something similar ourselves would have been nice, but that has to wait.
When the seed bombs were finished, we ate soup and mingled. I found it a really successful event.
Sunday 12 March
We started with DIY again, and In the afternoon, we went on a family visit. There is progress, even though it feels like slow progress.
The keyword of this week was "intense." Next week this is still the case. Oh well, we will cope!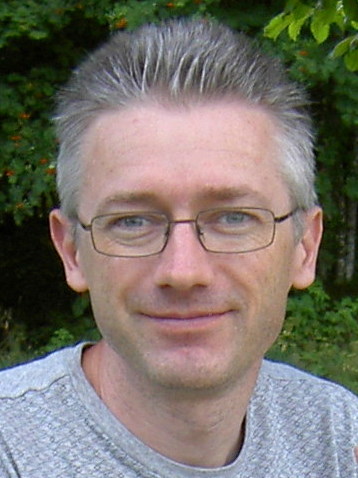 I was born 1967 in Stockholm, Sweden. I grew up in the small village Vågdalen in north Sweden. 1989 I moved to Umeå to study Computer Science at University of Umeå. 1995 I moved to the Netherlands where I live in Almere not far from Amsterdam.
Here on this site I let you see my creations.
I create, that is my hobby.
Copyright © 2015 - 2023, Jens Malmgren. Google Analytics is used on this site.