JENS MALMGREN
I create, that is my hobby.
Officially finished
This week's blog will not be "day based." I started blogging on Friday, and it does not feel fair to invent what I was feeling and doing at the beginning of the week. It is lovely to have a vacation from the daily blogging, though. It was a regular work week, but I did not feel like starting to write down every step I took throughout the week. I also wonder if it is always a good thing to blog about every day? This format is an experiment; I am not sure if I will like it but let us try this!
At the start of the week, we were still processing the feeling of being rid of the old house, at the end of the week, that had sunk into our minds.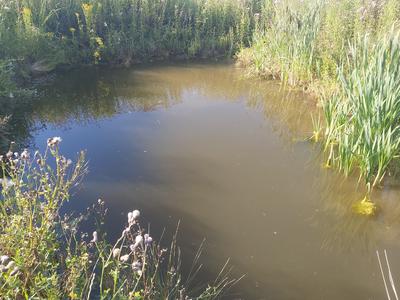 The theme at the beginning of the week was to finish projects I had started.
Last week I removed most of the weeds growing in the pond. It will come back, that is for sure, but I proved it can be removed. I removed the last pieces of weed growing along the sides. One of the fountains was broken, so I removed it and planned to repair it and put it back.
On Tuesday, the municipality called me and asked if we were living in the new house. We had ourselves written to the new address as of Friday last week, so I could not really deny that. Had we reported the building finished? No, and I explained the reasons for this. The primary reason was that the staircase was delivered later than expected; below the staircase will, the ventilation machine will be installed. We agreed that the inspection of the house would take place on Thursday.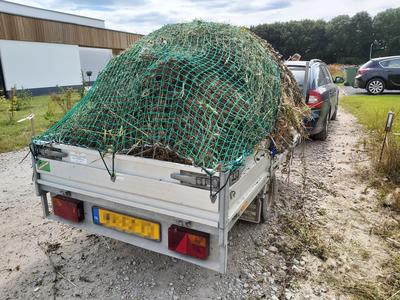 I collected the thistles, loaded them into the large trailer, and brought them to the recycling center. One more thing finished. The small trailer is still loaded with thistles; that will be another day. On the way back from unloading the big trailer from thistles, we picked up poles at the hardware shop. That is the beginning of a new fence project that I will discuss later when we start on that.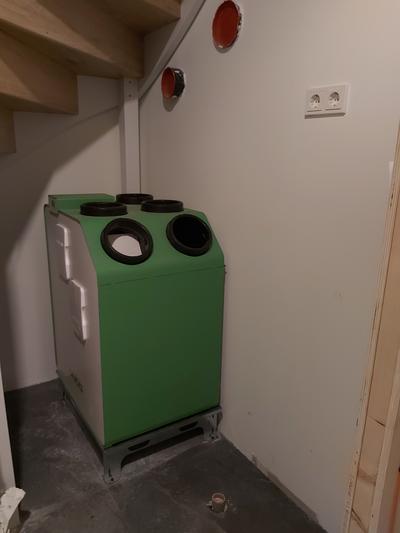 In preparation for the inspection of the house, I moved in the heat recovery ventilation system. We had it stored in the sea container, but now it came to the final location, below the stairs.
The day after, on Thursday, the inspector came. She verified that we had ventilation outlets/outlets in the bathroom, kitchen, and bedrooms, and I explained that the ventilation specialist would come next week and finish the installation. She verified we had a fire alarm connected to the electricity net. We don't have the inside doors yet, but I promised they would have an opening for air below the door. With that, she said she would register the building activities as finished. We passed the building inspection!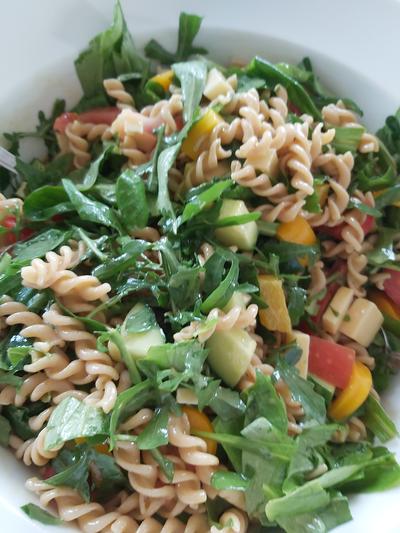 We started eating the third sort of salad from my salad bed. This is the Dutch lettuce. On 14 May, I sowed the salad bed.
Here is an intermediary status of the salad bed right now on 9 July:
| | | |
| --- | --- | --- |
| Row number | Name | Status |
| 1 – 3 | Loose-leaf lettuce. | Nice lettuce! Enjoyed it very much. |
| 4 – 6 | Dutch lettuce (Groot Noordhollandse veldsla). | Started harvesting on 7 July. |
| 7 – 9 | Arugula or Rocket, or Rucola. | Liked this a lot! |
| 10 | Basil Large Leaved | One seed sprouted. For the rest, I have not seen anything. |
| 10.5 | Lacinato kale (Palmkool) "Nero di Toscana" | Sowed half the row on 4 June. |
| 11 | Basil Large Leaved | Nothing sprouted. |
| 11.5 | Lacinato kale (Palmkool) "Nero di Toscana" | Doing fine sowed on 4 June. |
| 12 | Basil Large Leaved | Nothing sprouted. On 9 July, I put one chunk of Thyme and a couple of Parsley chunks. These came from seedlings prepared earlier in the spring by DW. |
| 13 | Candyleaf, Stevia rebaudiana, (Zuikerblad). | Nothing sprouted. |
| 10 – 12 | Basil Large Leaved. | Nothing sprouted. |
| 14 – 16 | Carrot Jeanette | Got eaten by slugs. Some left. |
| 17 – 18 | Carrot Rote Riesen | Some left. |
| 18.5 | Parsley (Krulpeterselie) | Is doing fine! Sowed on 4 June. |
I would say that some rows failed but also great successes, which is really inspiring. I think that we definitely will continue to experiment with this kind of bed. Perhaps even a bed on the other side of the path. Sowing pumpkins in the compost was also a huge success. The season is not over; there are still things to try out.
On Saturday we cleaned the house because we were getting visitors in the evening. It is not so that we cleaned so that all boxes are removed, and all is tidy, but we improved the situation. I reorganized the seedling projects. Again, according to the theme of finishing projects.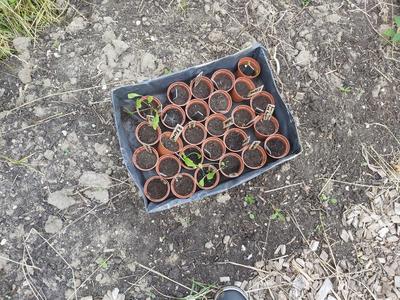 This project started on 6 February this year. The score from this project is pretty meager:
Wood Garlic, Ramsons, Daslook; nothing at all.
Sweet Cicely, Roomse Kervel; nothing at all.
Rosemary, Rosemarijn. One seed sprouted.
Field Scabious 'Blue', Knautia; nothing at all.
Biet "(Early) Crosby's Egyptian"; nothing at all.
In the photo, you see some green stuff in the tray, but that is dandelion, also a lovely plant but really not my ambition.
I am delighted with the Rosemary plant. Had I gone to a garden center and bought a Rosemary plant, I had also been happy. I do appreciate knowing that it is challenging to get seeds to sprout. That was new to me.
The idea for these seeds is that they need a warm period followed by a cold period to sprout. The package says that one can simulate this with a fridge. I tried it, and it did not work.
The Knautia plant is sad that it did not give anything because it is a good plant for bees. I envisioned a field of Knautia flowers, humming, and bussing of insets, but that did not happen. I do think I will do wild seeding of the Knautia seeds. I suppose some seeds will sprout with two bags just because of the great numbers. Actually, it is a good time to do this now. The seeds need some time with warm weather, and then it needs a winter.
I also think I should use a separate fridge next time I do this experiment. You keep food in a regular food fridge, and playing with the temperature is impossible. Suppose I had a separate fridge for sprouting seeds, then I could make the temperature go even lower, just above the freezing point. I could also have a light in the fridge to simulate daylight and not only that, the instructions suggest you increase the temperature slowly, and that is also possible with a separate fridge; it is just a question of turning the wheel a notch every day. As it was now, my only option was to take out the seeds from the fridge, and outside the fridge, we have standard room temperature.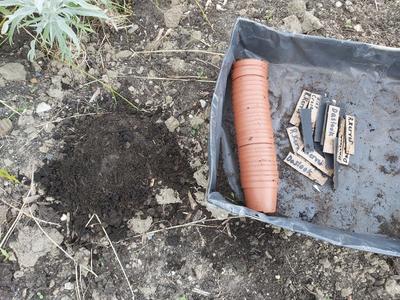 The logical step for doing all this is when we get our kitchen in place. When we have that, we will buy new appliances, and the current old fridge will be "vacant," That is when I can restart my experiment with challenging sprout schemes.
The cups were emptied near the Spirea Japonica Froebelii and the White Malva. It will be funny if I get Wood Garlic, Knautia, and Rosemary growing here next year. You can start betting on it.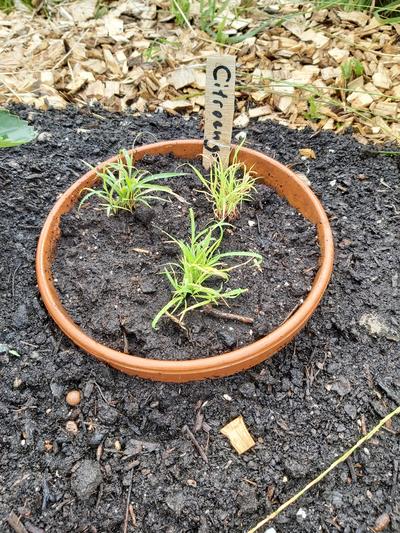 DW had sowed East Indian Lemon Grass (Cymbopogon flexuosus). Now I gave it a more permanent place in the same bed as we planted strawberries. I also planted a strawberry plant we got as a gift from neighbors last weekend.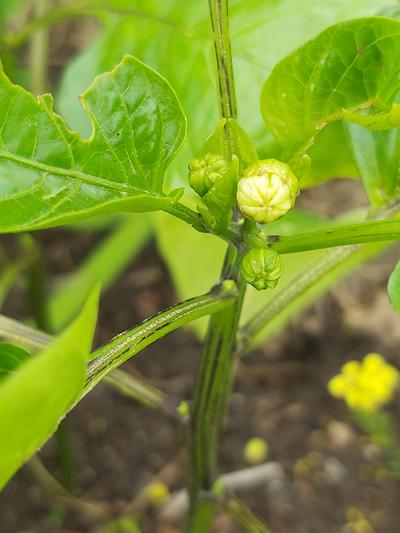 I got exciting news from the Bell Pepper plants! I suppose it is flower buds. The plants are struggling a little with being transplanted outside with wind, sun, and rain, but they have survived. I have seen one plant poorly eaten by a snail, so I will need to keep an eye on that. If the snail starts to consume the Bell Pepper systematically, I must fortify them. I started on the Bell Pepper project on 15 March this year. If I just get one fruit, I am happy.
On Saturday afternoon, we went to a meeting with the road association. Unfortunately, not enough members showed up, so a quorum was not reached. After the meeting, we had dinner with neighbors. I harvested salad for the food; it was great.
Sunday morning had a plodding start. I blogged about the week, and it feels like I recovered from my blog hiatus earlier this week. I have two new ideas for blog features:
I would like to be able to link to individual headings.
It would be good with a moving picture frame widget.
These are large projects that will take some time to finish. It will be evening time projects. In another blog, I will talk more about what this is and then start building the features later. It will be nice.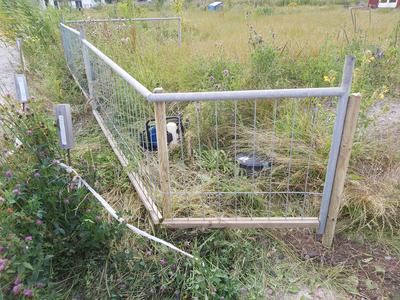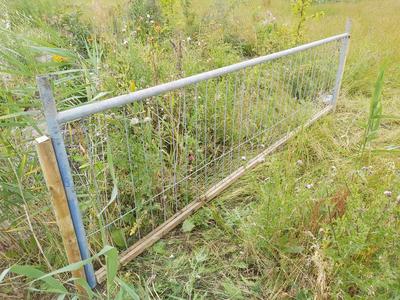 For this Sunday, the main plan was to put up permanent fencing. We got our fence lent out to neighbors, so first, we had to pick up those parts and bring them home. One fence unit is 3.5 meters long (138 inches) and 182 cm (71 inches) high. We cut the fence in two halves so that it was 91 cm (36 inches) high, and it kept the length. Since we cut it in halves, the bars in the middle were cut too. We decided to keep those with two beams screwed together.
Near the driveway, we cut the fence's pipe so we could let the fence continue along the driveway.
So far, we are mighty proud of our creation! It will take some time to finish this project, but it will be good because it makes it less hard work to move around the sheep.
After the work on the fence, I took portrait photos of various plants around the property.
| | |
| --- | --- |
| | Onion flower. |
| | Runner bean flower. |
| | Pink Malva flowers. |
| | Coreopsis Grandiflora "Early sunrise" |
| | Calendula flower. |
| | Fly honeysuckle (Lonicera Xylosteum). |
| | Allium (14 October 2021) |
| | Allyssum "Violet queen" Loburaria Maritima. |
| | Dihantus. |
| | Hollyhock. |
| | Hollyhock |
| | Hypericum berries. |
| | |
| | Thistle. |
| | Strawberry blossom. |
| | Geese. |
This concludes this week's blog. A little difference blog outside the day-for-day format that I used a lot. Although it is almost a nonsense milestone, it has to be this week's main event: the building is registered as finished. It is not finished, but it is finished so much that it is officially registered as a building you can live in.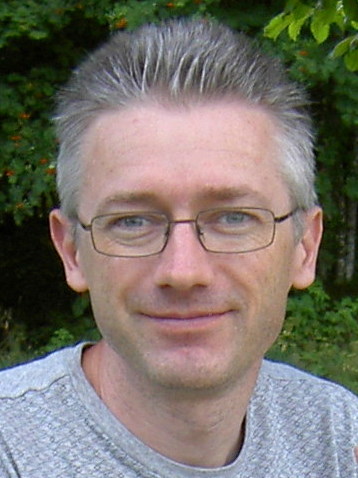 I was born 1967 in Stockholm, Sweden. I grew up in the small village Vågdalen in north Sweden. 1989 I moved to Umeå to study Computer Science at University of Umeå. 1995 I moved to the Netherlands where I live in Almere not far from Amsterdam.
Here on this site I let you see my creations.
I create, that is my hobby.
Copyright © 2015 - 2022, Jens Malmgren. Google Analytics is used on this site.