JENS MALMGREN
I create, that is my hobby.
We are now owners of the plot
Yesterday it rained when we went to the notary and signed for the purchase of the lot. The notary was a jovial man. He greeted us by waving to us from a distance instead of taking the hand. This behavior was due to the COVID-19 outbreak. He was ok with an elbow bump, though.
He talked about his house in France, and about his journeys to Denmark. He had papers lying in stacks on the floor along one wall and one painting of the Dutch flag upside down. It should be red, white, and blue from top to bottom, but his picture had blue, white, and red.
He talked continuously and signed the papers and gave a short resume of our purchase contract. He said what we could do, should do, cannot do, and was forbidden to do. His signature was funny. He put pen to paper and waved it back and forth a couple of times. There were three stacks of papers he had to sign so I could see him do that trick every time.
At one moment, he invited a secretary to play local government, and she came and also signed the papers with her headset still on her head. She also had a very convenient wave the hand back and forth signature.
That was it. With this ceremony, we were the owners of 3200 square meters of land. Well not exactly so much but almost. More about the exact size another time.
Today was the first time we went to the lot as owners. It was a little sunny when we went to the lot. We keep the rubber boots in the boot of the car so that we can use these when we go there. Up until now, I used the word plot. Today I realized there are two different words: plot and lot. Apparently, in some jurisdictions, a lot is defined as 75 by 100 feet. I think that was Canada. https://forum.wordreference.com/threads/lot-plot-of-land.541552/ A lot is the result of subdividing a plot. So before we get confused, a plot is always bigger. Here in our case, we are talking about 3200 square meters. Just for the sake of it, I found that 75 by 100 feet is 697 square meters. So we got 4.59 lots. Here is the dot a decimal separator. Purely from numbers, we have something bigger than a lot, and hence could we call it a plot. While trying to understand this, I also see that it is called a parcel of land. Why is it that the English language dedicated words to this that are also a synonym for other things? I will continue to call it a plot anyhow.
We walked around the borders of the plot and enjoyed the faint sun. The neighbor, Mr. AA, had put up a fence around his edges. He was missing one side of his parcel. He is the first to do any work at the site. We will also need to arrange a fence around the building site.
We have several future neighbors, and I decided to call them different things. It is Mrs. PMI. Mr. DdJ and Mr. DvD, Mr. AM, Mrs. AP, Mr. AA, Mr. LB, and finally, Mr. RH. They got spouses as well, not mentioned here. I have eight direct neighbors, and this is because of the shape of the plot. The plot has the form of a side window of a car, so to speak.
Our car parked on the dirt road.

This picture is taken at the corner of Mrs. PMI's plot in the direction of our future house. If I come back here regularly and take a picture in this direction, then I can make a slideshow displaying how it is progressing.

We are afraid of that this thing will be in the middle of our own future driveway. In the background you can see Mr. AA's house development and behind that the houses from an adjacent field.

This is the artificial hill in the forest of cicles. That is true, they have tracks in this forest in the shape of circles.

There were signs with poems as well as information. Normally this place is populated by sheep of the sort Hampshire Downs. They were not there at this moment.

Do you have a plan? There is a plan. I don't know anything about it. I can also not tell you what exactly and where and whom and how it will be made but I know one thing: There is a plan. Go and make your plan.
A poem by Dirk Frieling (1937 – 2011)
Well, Dirk. You are right. There is a plan and I made it with Fusion 360.

Here is the little girl that decided to come and sit on the other end of the bench where we were sitting.

Somewhere in the distance is our plot.
On Monday, the cadaster will come and put up the pipes marking the land. I will be there and see how that is going.
After the visit to our parcel, we went to a nearby park with an outlook. It is essentially a big pile of dirt in the forest.
We climbed the site, and it was over twenty meters over MSL. We forgot to remember exactly how high the construction was, but it was high. At the top, there were benches you could sit. We sat and had a sandwich. The seats were formed in S shapes. We sat there and suddenly we got company from a little girl belonging to a family also climbing the hill. She had been running ahead of the rest of the family. I made a photo of her without asking for permission.
We sat there eating sandwiches and talking about the outbreak of COVID-19.
It is awful. A lot of people will die. Tomorrow I will not go painting in Amsterdam. I cancelled everything.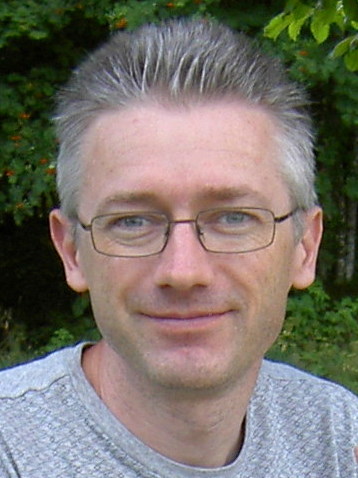 I was born 1967 in Stockholm, Sweden. I grew up in the small village Vågdalen in north Sweden. 1989 I moved to Umeå to study Computer Science at University of Umeå. 1995 I moved to the Netherlands where I live in Almere not far from Amsterdam.
Here on this site I let you see my creations.
I create, that is my hobby.
Copyright © 2015 - 2021, Jens Malmgren. Google Analytics is used on this site.