JENS MALMGREN
I create, that is my hobby.
Barcelona 9 to 11 September 2016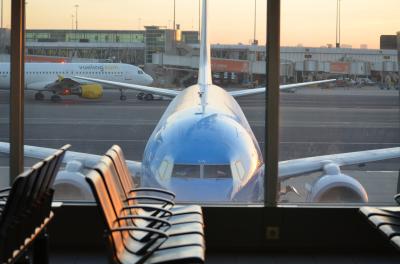 It is Friday 9 September 2016 and I am flying to Barcelona together with my wife. We will visit our daughter who is currently staying there for a half year to study Spanish. We came to Schiphol airport well on time and since we only had hand luggage we could bypass the check in queue and go directly to the security.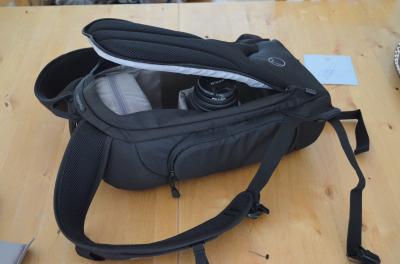 For this journey I bought a proper bag for my camera. A backpack. I tried to find a small bag but since I have two lenses already a really small bag is big. Anyway it is a backpack so I hope it will work nicely.
It is a sunny day. The sun came in over the horizon through large windows of the gate. The airplanes were parked outside the gate as they usually do. I sat waiting and thinking of how I should use my new bag and the camera as I occurred to me that it was perfect moment to take a picture.
This is the first time in my life I traveled without a jacket! It feels really unusual. You might know I am always carrying lots of stuff in my pockets and now I don't have those pockets. Well I got a backpack. When I told people that I will go to Barcelona several people told me I should watch out for pickpockets. Almost like the conversation went like, "I am going to Barcelona and I am aware of pickpockets". They then answered "Oh, nice Barcelona, yes you should be aware of pickpockets." Is this something new? Is it so that without noticing it, grownups started to develop some kind of parrot behavior? Where is this coming from?
I really don't think that Barcelona should have such a bad reputation. Not worse than any other big city in Europe. It has to be something else. I think it is perhaps that throwing around parrot phrases can be a way to signal that you are a well-informed person. Actually now when thinking about it I should have interviewed people to hear if they had a personal experience of pickpockets in Barcelona or if it was hearsay. One thing is sure, in a couple of moments I will have firsthand experience. And be sure of that I will hold on to my stuff!
In the airplane we were sitting at the fire exit. Or as English natives say it "Eggzit". So we had the egg zit today. Unfortunately, I did not sit next to the window otherwise I had taken a couple of pictures of clouds.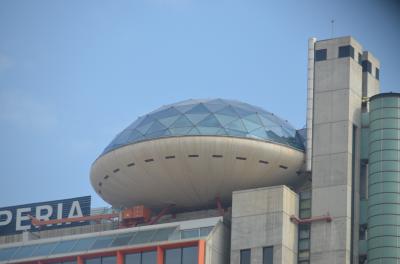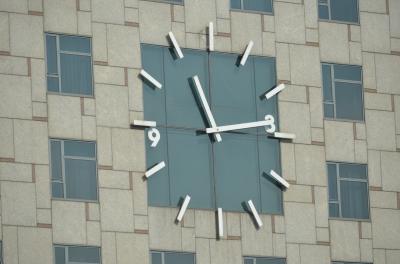 We now started to descend to the Barcelona airport. Excitement in the air. Right away when walking out of the airplane the more humid and warm air was noticeable. From the airport we took the bus Aeurobus A1 with free WiFi. Free WiFi is like air. You got to have it. From the bus window I observed the landscape passing by. The vegetation had dried out in the burning sun. There was lot of brown beige colors in the grass and one or another palm tree of course. I noticed a house with a kind of observatory at the top as if a UFO had landed. That looked cool. At quarter past 11 we passed plaza del Catalunia where the clock on the hotel displayed the time. Last time I went to Barcelona I stayed at this hotel. That was a long time ago.
The bus stopped at the city Centre at huh, also called plaza de Catalunia. Now I am confused. Are there more plaza Catalunia? There I took of the detachable legs of my trousers and switched to sandals. Obviously wearing two backpacks is slightly difficult. I worked out I could have the camera backpack at the front and my other backpack at the back. Then the camera hanging with the zoom lens outside my camera backpack. I could see my silhouette in shopping windows and I thought is looked grotesque. It took two hours to get used to the idea but it worked the best so that was how it became. We could not check into the hotel until the afternoon so there were a couple of hours to kill together with packing. The hotel we booked our room at was Hotel Saint Angelo.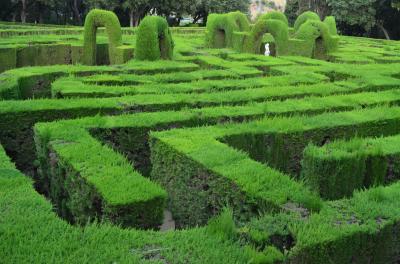 After check-in where we could get rid of our luggage we went for our first excursion: Parc del Laberint d'Horta. We travelled there by metro. This was a really nice park that actually not many tourists had found this day.
I had brought with me a tripod that came really handy to make a group photo. You can also do other things with a tripod. For example, use it as a form of selfie stick. In this case I tried to get other perspective on photos.
At bushes with flowers I decided to try using aperture priority mode on my camera. It is the A on the dial so that I can set the aperture to a large opening to achieve a nice bokeh effect. It worked quite well.
After Parc del Laberint we went back to the city center, walked around and enjoyed the atmosphere.
In the evening we decided to eat tapas at La Flauta on Calle D´aribau, 23. It was really busy so we had to reserve a spot for later in the evening and return. Half past 9 in the evening we got a table at La Flauta and it was a very nice experience. Highly recommended.
Saturday 10 September.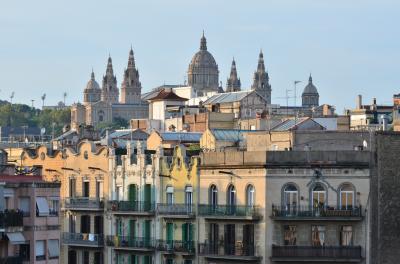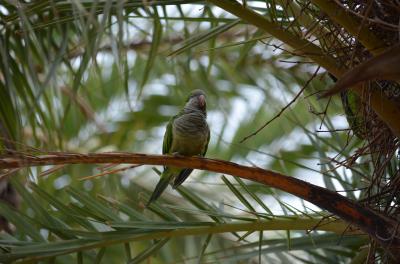 In the morning I discovered something that looked like a castle in the distance from the hotel room.
After a nice breakfast we started todays activities. Right outside the hotel there was a park, Parc de Joan Miró. It had green birds nesting in the palm trees.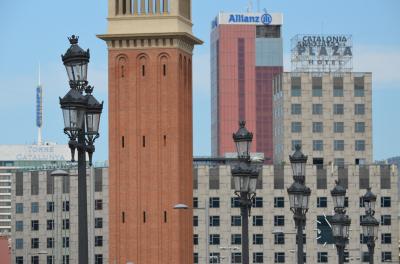 After walking through the park I discovered the hotel at that place I still thought was Plaza Catalonia. I had never approached this hotel from this side so this was a nice experience. When I reached the place in front of the hotel the misunderstanding was sorted. The hotel was situated at plaza Espania but the name of the hotel was plaza de Catalonia. Now while we are at this subject, how do they spell it? I have seen three spellings of the region.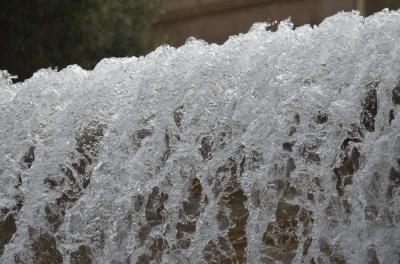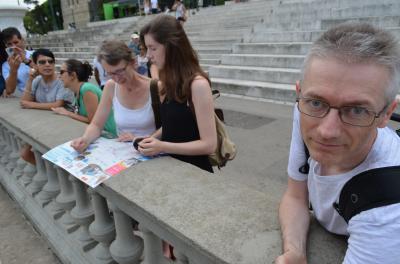 At the plane we talked about the fountain and decided to walk up to the fountain, Font Màgica de Montjuïc. I decided to experiment with shutter priority mode – the S on the dial. I did this to capture the motion of the water in the fountain. When we passed the fountain we decided to climb to the castle or whatever it might be at the top of the mountain, whatever mountain it could be.
It turned out to be so that the castle was the National museum of the region, Museu Nacional d'Art de Catalunya. The mountain was Montjuïc. Behind the museum there was a botanic park, Jardí Botànic Històric. There where birds circling in the park. I tried to make a sharp photo of them but the best I got was a blurry photo. There was a lot of plants and they were a lot easier to make photos of.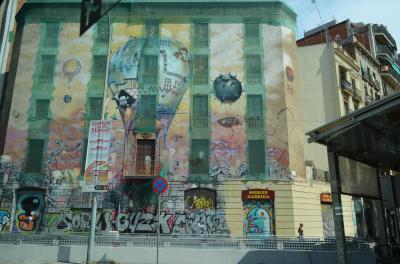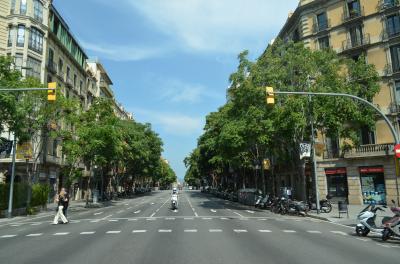 Below the national museum there was a construction that crossed the path we had taken on the way up to the mountain also with stairs and fountains on the sides, Passeig de Jean Forestier. We just had to climb these! After this climb our feet's started to become sore so we decided for a relocation to another part of the city with help of a city bus. To get to the nearest bus stop we had to walk down to the mountain obviously to the nearest bus stop Lleida-Tamarit. We decided to use the transport that the locals would use, not one of the tourist buses even though that was much more near. Can you take nice photos from a regular bus? Well sometimes I had the prints of the bus in the picture but most of the time it turned out really nice. The metro network in Barcelona is okay but sometimes it can be a bit hot to wait for the train on the platform. The bus on the other hand had no problem with that and as I said the view from the window was much nicer than the black windows of the underground metro. Why do they have windows at all?
We got of the bus in Bario Gracia. It had been a long bus tour but that was nice because our feet's were a bit battered by now. Nevertheless, it was time for a scrawl into Bario Gracia. Here after walking completely randomly we found an interesting organic market, Yoga con Gracia, at a little park Plaça del Nord.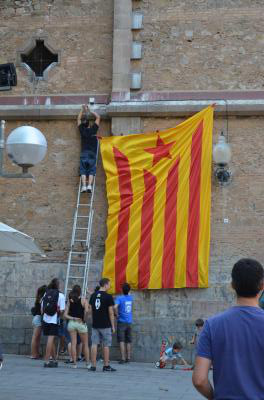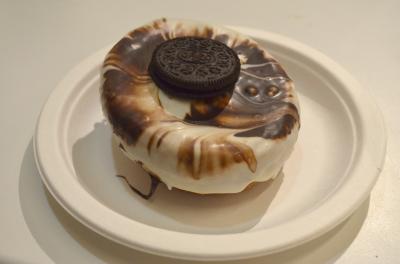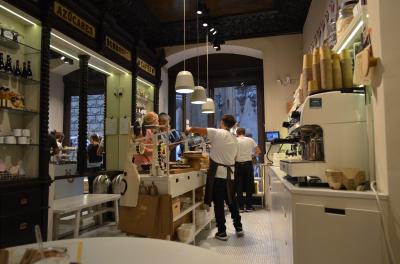 People were busy with flags of yellow and red stripes. This was the flag of the region. It is not just so that there is one flag. There are variations to the flags. Some flags had a blue triangle with a star but there were also some having a yellow triangle.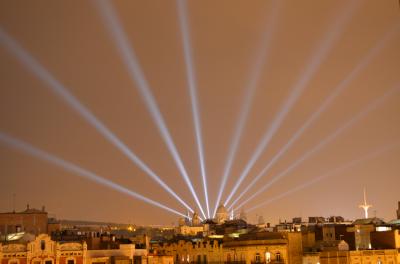 Really late we had a treat! We went to a chocolate chop and got cronuts. A kind of doughnut but not made with the regular way but based on croissants. The topping was thick and really delicious. I took one that I found had a beautiful pattern in the chocolate. This shop had a special name. "Chök the chocolate kitchen" at Carrer del Carme, 3. It looked like the phonetic way of spelling the Swedish word kök which means kitchen. I could not believe that indeed the origin of the name should be Swedish but I got enormously curious about this. I had to ask. It turned out to be a local concept but indeed the inspiration for the word came from Swedish and kitchen but it was locals who had invented this. They wanted to know how the name of their company was pronounced in Swedish. Really funny.
The evening concluded with a photo of the national museum with lights illuminating the sky.
Sunday 11 September.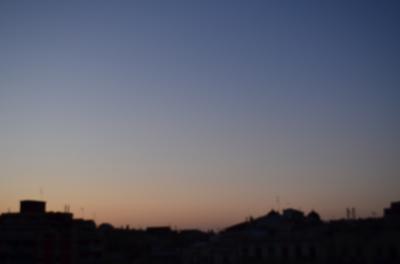 This was going to become a hot day. The morning was already sunny. The other days had some overcast but this day was bright clear and sunny.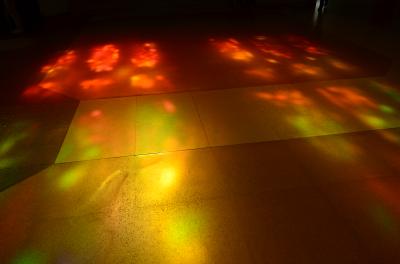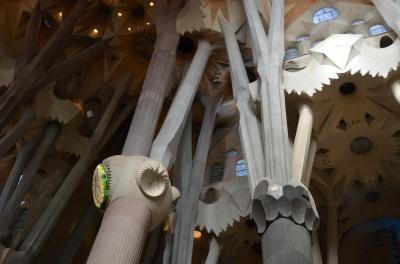 The plans for today was really simple. La Sagrada Familia. We went there with the metro. Funny actually because I got stopped by a police officer, or guard or something. He pointed out that the pockets I had on the legs of my trousers were the number one favorite for pickpockets in Barcelona. If I carried a wallet or a phone there then it was certainly going to be stolen. Thanks for the information, seams legit.
Now I am not a churchgoer but okay, this cathedral is something special. I made myself the goal to take secular photos at La Sagrada Familia. It is quite some experience to walk around in the building.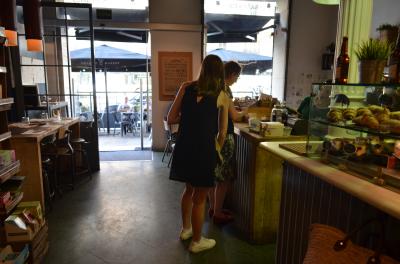 After a long visit at La Sagrada Familia we had been inspired by the organic market of yesterday so we decided to find another organic market to see what it could offer. We went to Woki Organic Market at Ronda Universitat, 20.
Compared to Dutch prices this was also affordable. Service was good. A really nice restaurant experience, again. It is funny though that we noticed that in almost all dishes at various restaurants we had egg in Barcelona. At the hotel though it was not possible to get egg for breakfast.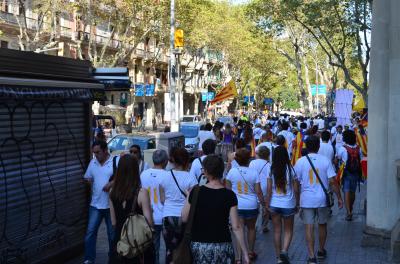 After the late lunch we decided to walk to a quiet park and relax for some hours before it was time to get to the airport. So we looked up a big green park, Ciutadella Park, and started walking in that direction. For every street corner more people followed our example. Literally.
At some point halfway to the park streets was blocked for regular traffic. That was about the point when we decided to change our plans. It looked like we got the fantastic idea of going to a park where the locals at the same day and moment had decided to arrange a manifestation for the liberation of the region from the rest of Spain.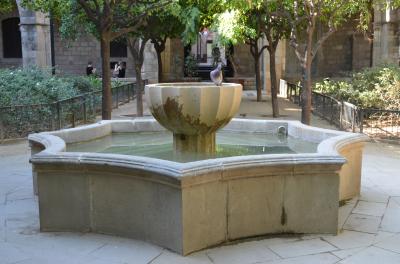 We changed direction and found something else, the library Biblioteca de Catalunya and the garden Jardins de Rubió i Lluch. That looked like something the Romans had built!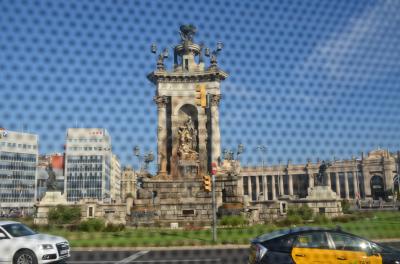 Then we headed back to the hotel. Picked up our things and went to the Aerobus to get back to the airport. The last photo in the city was the fountain outside at the hotel at Plaza de Espania that had confused me when we arrived by naming the hotel Plaza de Catalonia.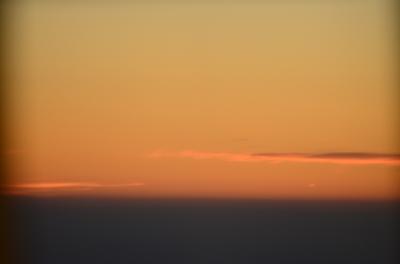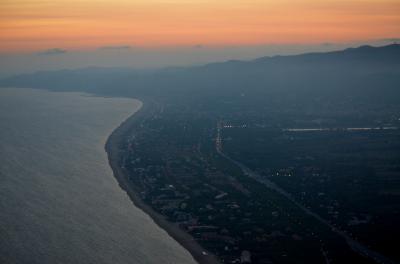 We had a window spot in the airplane this time. However, we had it at the boring side of the airplane. At the other side they had the sunset. On our side we had the night. Managed to take a kind of sunset image anyway across the aisle without anyone noticing it.
When we were about to land one image of Amsterdam from above was kind of okay. When walking home from the train the meat in our feet's was feeling so battered and smashed that I imagined that you could almost hear squishy sounds as if pressing banana gooey between the fingers back and forth. It was just imagination though. When looking down the feet's where still there and they were intact. On the outside.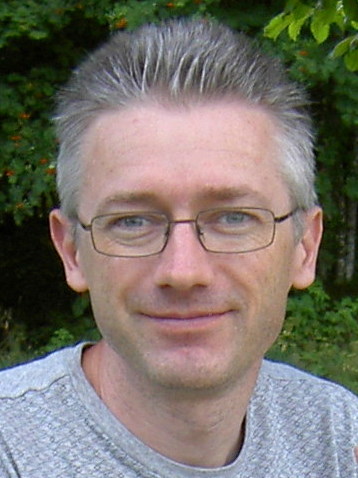 I was born 1967 in Stockholm, Sweden. I grew up in the small village Vågdalen in north Sweden. 1989 I moved to Umeå to study Computer Science at University of Umeå. 1995 I moved to the Netherlands where I live in Almere not far from Amsterdam.
Here on this site I let you see my creations.
I create, that is my hobby.
Copyright © 2015 - 2019, Jens Malmgren. Google Analytics is used on this site.