JENS MALMGREN
I create, that is my hobby.
Continued on the permanent fence
This week we continued on the permanent fence project. I started getting the rotating tiller machine to start. We also started on a tiny house project!
Monday 3 April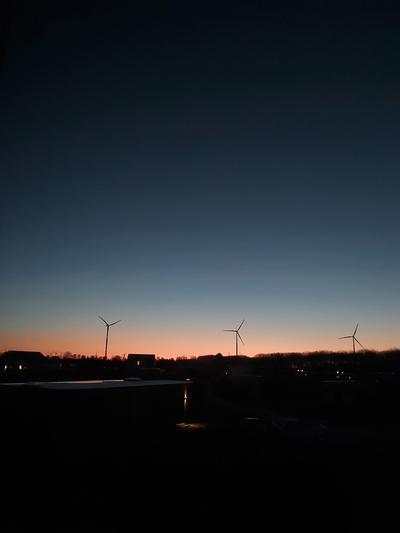 This morning, we woke up early. DW wanted to catch an early train.
Tuesday 4 April
Today I worked from home, and DW went to the office.
The Chinese springs arrived today. Last week the Dutch spring arrived, and it works really well, so I see no need to replace it until it breaks. Now we got the correct spare parts. That is nice.
Wednesday 5 April
Worked half a day from home today. After lunch, our sewer filter expert came to do a checkup on our filter. The tanks did not have much mud, and the PH levels were excellent.
| | |
| --- | --- |
| | First, he cut the reed. We had already done that, but he cut off another part. Then he removed the cuttings with a big rake. |
| | Then he blew off the final trim pieces. |
| | He also had measurement equipment for the tanks, and our tanks had plenty of room. When done, he placed the probe in a bucket mounted to the towbar. That way, he did not need to have it inside the car. |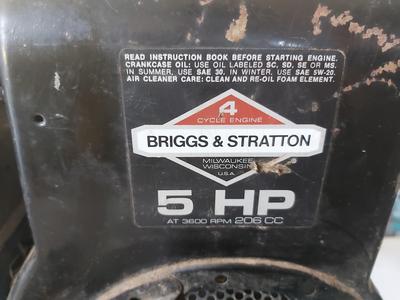 Then I started a new project: Getting the rotating tiller machine to start! I got this machine last year. Brought it home from Sweden. It was on 7 August 2022 that I packed the machine into the car. I also had the instruction book, but I forgot to bring it. Next time I go to the cottage, I will have a look to see if I can find it.
Could it be so that I accidentally knocked the spark plug when moving the machine? I got the oil needed for the machine and tried to start it, but that did not work.
While I was busy with the rotating tiller machine, DW worked in the garden.
Thursday 6 April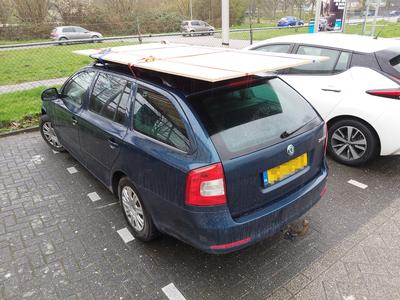 Both of us worked from the office today. After work, we went to the hardware store to return the plate we bought last Monday. This time we bought a much larger plate. We could transport the plate on the roof racks of the car.
Today arrived the poles. That means we can continue working on the poles this weekend unless we do other things. We noticed that the poles were slightly shorter than last year's batch. That does not matter; we will use these poles anyway.
Friday 7 April
We worked from the office again. It was an intense week for DW, and she was not feeling well. We took a walk in the neighborhood when we came home.
This afternoon I experimented with Bing Chat again. I tried to ask it to give me the latest news. The answers were USA-centric. When asking it to provide European news, it returned with USA-centric news that had some connection to Europe. Bing Chat only works from Edge; I usually don't use that browser. I also tried to let it count the syllables of the lines in songs. I used "Fireworks" by Katy Perry, and it failed to give the correct count. It is fascinating that this is a difficult task.
Then I tried Chat GPT. Here I could use Chrome. I tried to ask for news, and it did it but said that it only had news data up until 2021. That is also useless. Chat GPT gave the wrong syllables count, but after pointing out the error, it started to do it correctly. That is better. I asked for it to produce news from 2021 as a rhyming poem, which was easy.
In the end, I asked for a pizza recipe. It came with one that I started to try out. When I asked it to set a timer, it said I could use Siri or Google Assistant. Bummer. Then I tried to make it say which one was better, but that did not work. We ate really late.
It started to get misty in the evening.
Saturday 8 April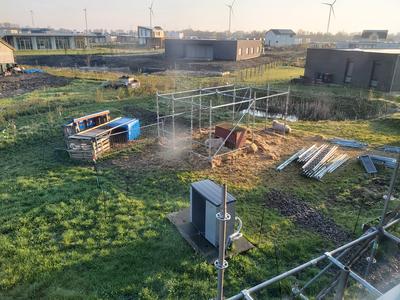 This morning it was a beautiful hazy light. The mist was fading, but it was a lovely thick warm light before that. I tried to capture this in a photo, but it did not recall the quality of the light.
I asked Chat GPT to make an HTML page with a canvas with one red and one blue ball bouncing around. It produced this quickly. Well, that is somewhat impressive.
Today we decided to look at tiny houses; it was possible to go to the houses and go inside them this day. The idea is to get DS a house to have his own place. We wanted to have a look at the options before we talked about it with him. We decided on a house on wheels. It can be rolled in place, and when done with it, it can roll to a new place. It will be permanently connected, though, so it will be connected to water, electricity, sewer, and internet. You cannot just roll it away anytime. The one we looked at was two and a half meters wide. There were tiny houses four meters wide but also more expensive.
After lunch, we went with DS to the tiny houses again. This time we had more questions that were answered very well. There was a lady with red hair that answered our questions. It feels like we will do this. When and how?
The day was not quite over when we finished looking at the tiny houses. We went home, and I built a permanent fence around the vegetable garden.
| | |
| --- | --- |
| | |
| | |
| | One pole got a little crooked. I will adjust that later. |
| | |
Sunday 9 April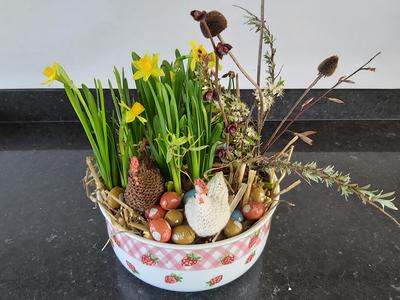 DW prepared a present for her mother, MIL. It is a bowl with daffodils, chocolate eggs, knitted chickens filled with colocate eggs, and various branches from bushes in our garden: sea buckthorn, currant tree, hazel, twisting willow, and blackthorn. There were a couple of branches dried Rudbeckia branches as well. It looked really artistic, in my humble opinion.
This morning we continued on the permanent fence project. The idea is that we will put up a fence around features in our garden that are permanent and need protection from the Sheep. The vegetable garden is an example of that. We also got a group of apple and pear trees that needs protection, but for them, we will put up small individual circles around each tree.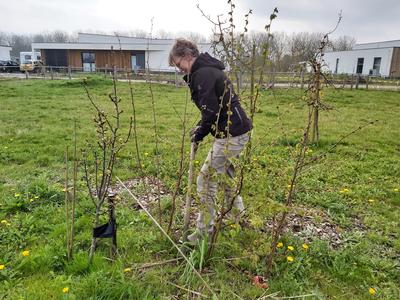 Before starting the circles, we had to deal with an overdue task: moving two hazel bushes to a permanent location. We got a third hazel, but it is a red hazel, and it is the only red hazel we got. To be safe, we decided it could stay in its temporary location. That could very well be the reason this becomes the final location, but I do think that I don't want a Hazel at that location. We will see.
The two Hazel trees got moved to the north side of the house onto the dyke. Now it is possible to make circles around the rest of the trees. I started with a pear tree. DW also planted a new lime tree on the dyke.
Then we went to MIL and FIL. We found MIL in bed; she had problems with back pain. FIL was up and about, though. He was in a good mood. We handed over the bowl with the chickens, which was received well. Then followed the usual catching up with the latest developments.
At one moment, I had a walk in the garden. MIL's garden was still waking up from the winter, but you could find flowers here and there. That is more than I have in my flower garden.
This concludes this week! I still feel sorry that I am not plastering anymore. On the other hand, we are making significant progress in making sheep fencing more efficient. Not only that but by moving around the sheep more efficiently, we will also be able to keep the thistles under control. We are not quite there yet, but it is going well.
It feels super exciting that DS can move out to his own house, although it will take a couple of months before this plan is a reality.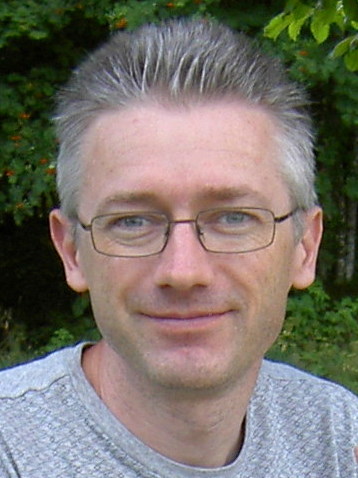 I was born 1967 in Stockholm, Sweden. I grew up in the small village Vågdalen in north Sweden. 1989 I moved to Umeå to study Computer Science at University of Umeå. 1995 I moved to the Netherlands where I live in Almere not far from Amsterdam.
Here on this site I let you see my creations.
I create, that is my hobby.
Copyright © 2015 - 2023, Jens Malmgren. Google Analytics is used on this site.